In the summer of 1825, just a year before Thomas Jefferson's inevitable journey into eternity, James Madison pays a visit to his long-time companion at Monticello. As they sit outside Jefferson's cherished home, surrounded by a plethora of his vibrant flowers, we witness the genuine countenances of these legendary figures through the life masks that portray their true faces.
Under the shade, the two esteemed founding fathers engage in reminiscing about their remarkable adventures spanning over five decades of friendship. Jefferson holds his trusty walking cane close, the same stick that he wills to Madison upon his passing the following year.
Capturing a candid moment, I seize the opportunity to snap a photo of Madison and Jefferson. As I do so, Madison gazes directly at me, curiosity evident in his eyes, unaware of the nature of this photographic device. Both men are oblivious to the concept of a camera. Filled with excitement, I hasten back to my time machine, eager to preserve this extraordinary image.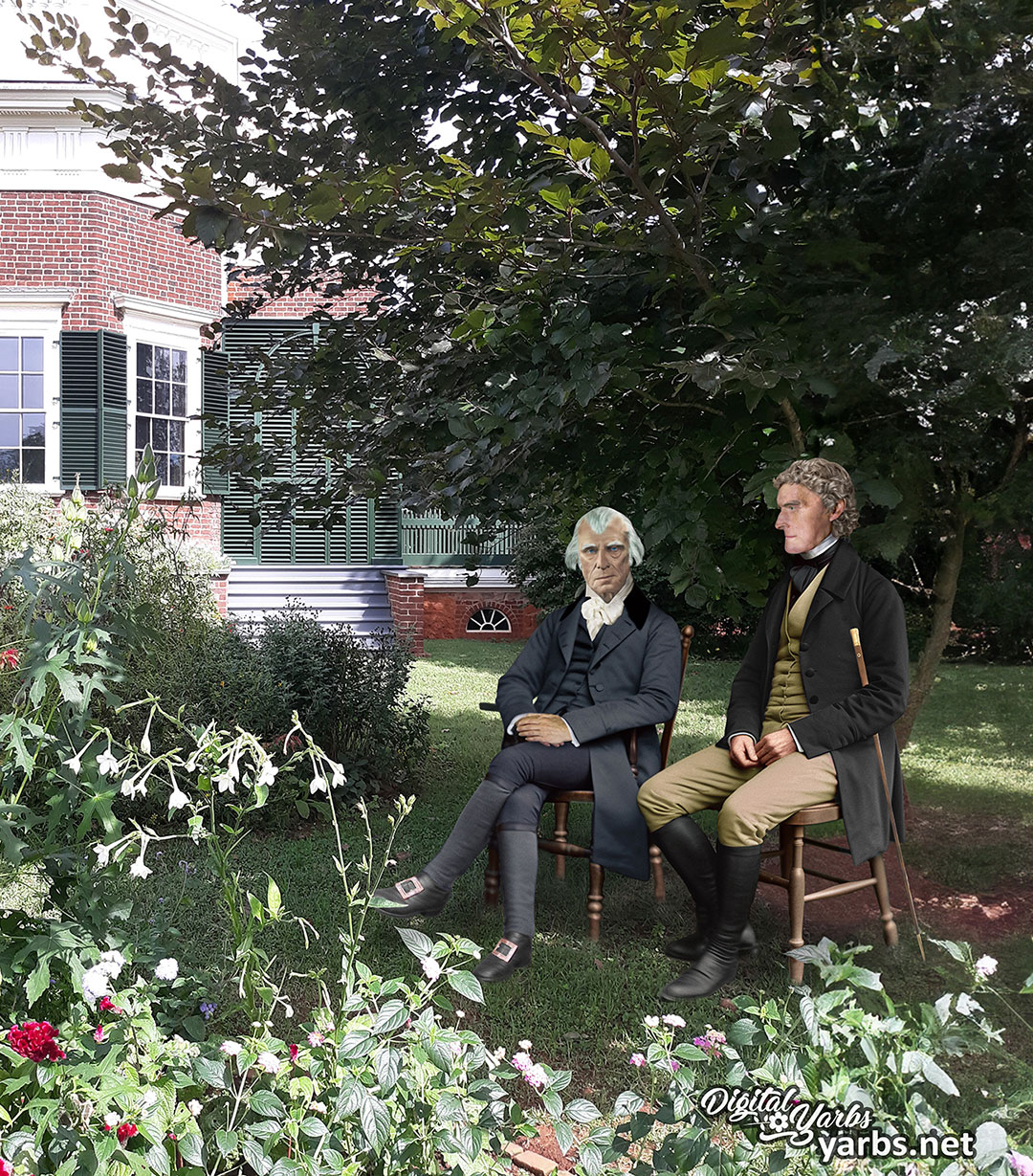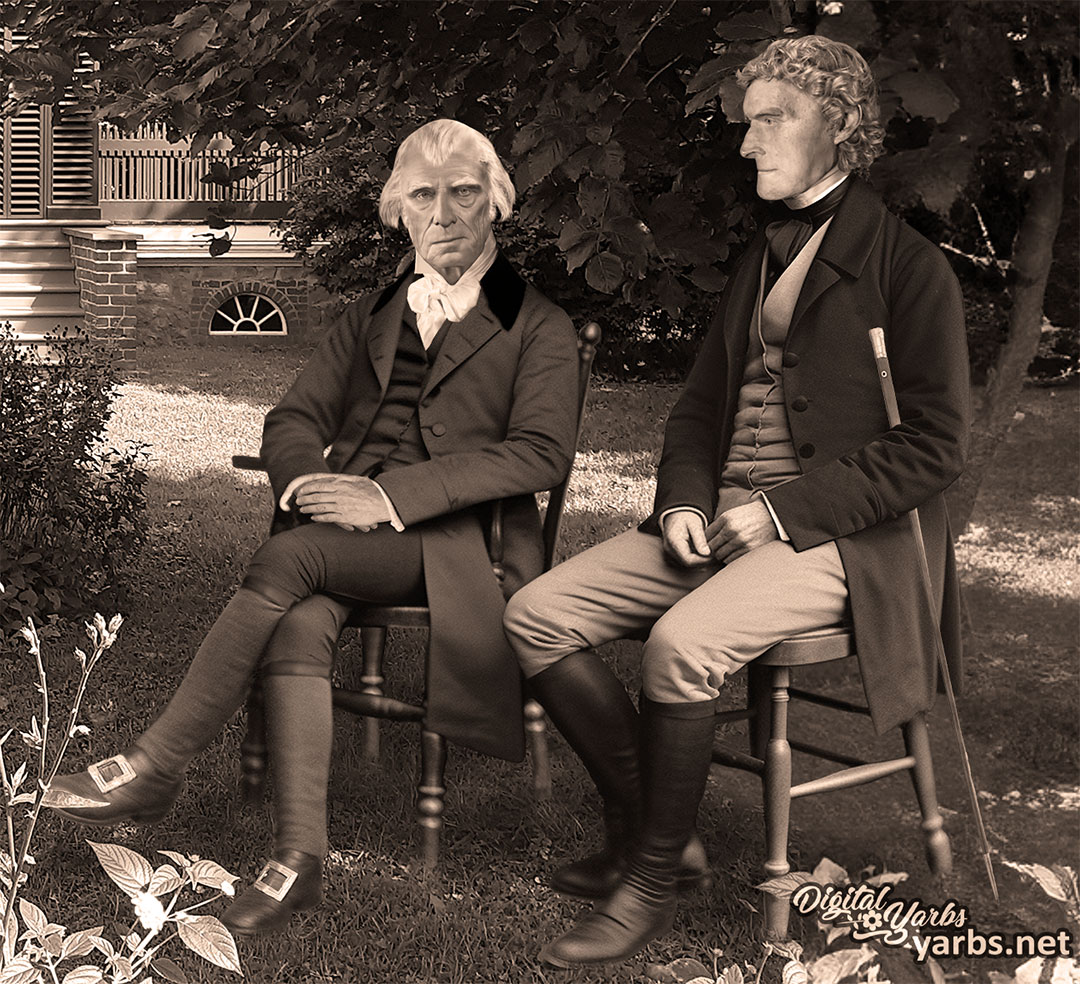 About the Image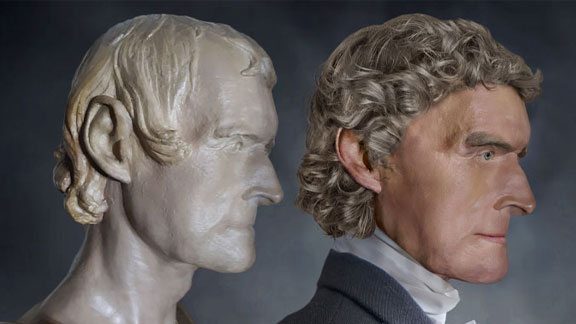 Using the magic of Photoshop and the original life masks of James Madison and Thomas Jefferson, I embarked on the task of reconstructing their features, adding flesh, skin, and other intricate details to bring these iconic figures back to life. The life masks of Madison and Jefferson were created by John Henri Isaac Browere in October 1825, with Jefferson endorsing his life mask bust and James and Dolley Madison expressing their approval upon seeing it a few days later.
Unlike Browere's other plaster castings, Jefferson's experience was less pleasant. The plaster had hardened too much on his head, requiring the use of mallet and chisel to remove it. Reflecting on the ordeal, Jefferson remarked, "I now bid adieu forever to busts and even portraits."
According to Daniel Webster, "Mr. Jefferson is now between eighty-one and eighty-two, standing over six feet tall, with an ample, long frame that is rather thin and slender. His head, while not peculiar in shape, is slightly forward on his shoulders, and due to his long neck, there is a habitual protrusion when he walks or engages in conversation. His head is still well-covered with hair, which was once red but now turns gray, taking on an indistinct sandy color. His eyes are small, very light, and no longer possess their previous brilliance and impact. His chin is rather long but not pointed, while his nose is small and exhibits a regular outline, with slightly elevated nostrils. He has a well-formed mouth, still retaining his teeth, which is strongly compressed, displaying an expression of contentment and benevolence. Formerly light and freckled, his complexion now bears the marks of age and cutaneous affection."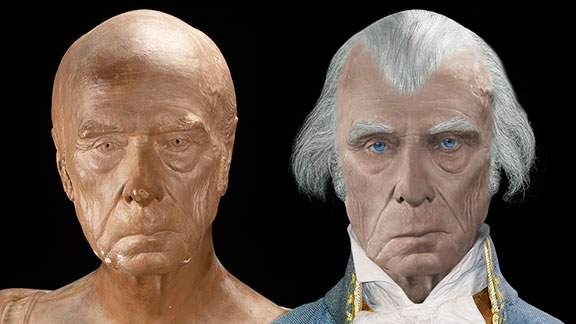 Browere cast the plaster mask of Madison's head and upper torso in 1825 at Madison's Montpelier home in Orange, Virginia, when Madison was 74 years old. Due to the lightness of Browere's plaster mixture, the faces were accurately rendered without distortion. James Madison himself stated regarding his life mask, "Per request of Mr. Browere, busts of myself and of my wife, regarded as exact likenesses, have been executed by him in plaster, being casts made from the molds formed on our persons, of which this certificate is given under my hand at Montpelier, 19th October 1825."
The reconstructed life mask provides a glimpse into how Madison likely appeared, with his widow's peak comb-over pulled back into a queue. Madison had started losing his hair by his mid-thirties. He was a frail and petite man, standing at just 5 feet 4 inches tall and rarely weighing more than 100 pounds.
In 1828, Margaret Bayard Smith, upon seeing Madison for the first time in a decade, observed, "His little blue eyes sparkled like stars from under his bushy gray eyebrows amidst the deep wrinkles of his thin face."
As the backdrop, I captured a photograph of Monticello, and the bodies depicted in period dress were generated using AI, with significant modifications in Photoshop to ensure they closely resembled the attire that Jefferson and Madison would have likely worn. The AI-generated period dress clothes initially had the wrong color, requiring adjustments. Additionally, I manually added a more refined cravat to Madison, fixed his stockings, and included buckle shoes to enhance accuracy.