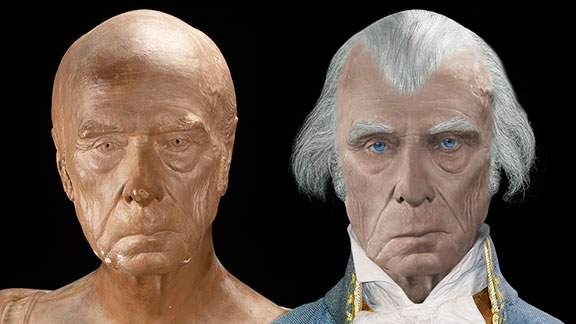 Using life masks, I conducted a comprehensive forensic and academic study to envision the most probable appearance of the subjects. By incorporating flesh, hair, and other intricate details, I aimed to reveal how these individuals might have looked in daguerreotypes and photographs.
Our understanding of these historical figures primarily relies on surviving engravings, drawings, paintings, and sculptures housed in museums and historical sites. However, one must question their accuracy. Do these depictions suffer from the biases of "artistic license" and "sympathetic treatment" commonly employed by portrait artists of that era?
Before the advent of photography, life masks served as the most effective method of capturing an exact likeness of an individual. Essentially, plaster was applied to the subject's head and sometimes upper torso to create a mold, from which a life mask or bust could be cast. This process resulted in a three-dimensional and faithful representation, capturing even the minutest details of the subject's true appearance. Thanks to the works of sculptors John Henri Isaac Browere and Jean-Antoine Houdon, we now possess a range of life masks of famous early Americans, providing us with a glimpse into their genuine visage.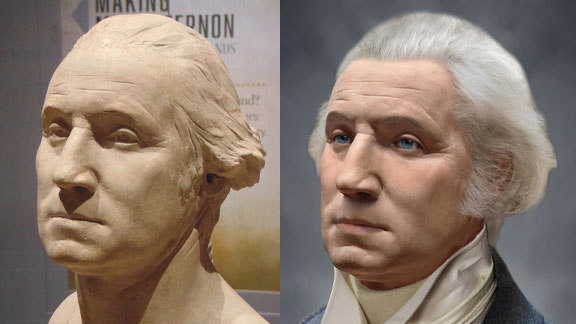 Browere's use of a lightweight plaster mixture ensured that the faces were not distorted, leading to highly accurate likenesses. Thomas Jefferson, upon seeing his own life mask bust, endorsed its fidelity, a sentiment shared by James and Dolley Madison when they observed it a few days later. James Madison commented on his own life mask, stating, "Per request of Mr. Browere, busts of myself and of my wife, regarded as exact likenesses, have been executed by him in plaster, being casts made from the molds formed on our persons, of which this certificate is given under my hand at Montpelier, 19, October, 1825."
However, a plaster bust lacks the visual allure of a vibrant, full-color image. Therefore, armed with high-resolution photographs and an extensive investigation into the subjects' individual physical traits, I embarked on the task of creating such images, emphasizing accuracy and faithfulness to the original as my guiding principles. Through the reconstruction of these life masks, I aimed to bring these icons of history to life in modern color photographs, providing a portal to the past. Additionally, I skillfully crafted period scenes that featured these authentic faces, offering a captivating glimpse into history.