Experience a new way of looking at our Founding Fathers and early American heroes from the age before photography. Now see their REAL faces based upon LIFE masks!
Using life masks, I completed a forensic/academic study of how the subjects most likely appeared by adding flesh, hair, and other details. Now for the first time see these life masks reconstructed with Photoshop to see how the subjects might have looked in daguerreotypes and photographs.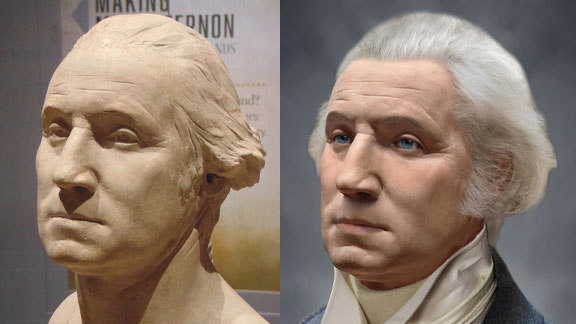 We primarily know these historical figures by the surviving engravings, drawings, paintings and sculptures housed in our museums and historical sites. But are they accurate? Or, do they suffer from "artistic license" and "sympathetic treatment" commonly employed by many contemporary portrait artists?
Before photography, the art form of the life mask was the best way to create an exact likeness of an individual. Basically, plaster would be applied to the head and sometimes upper torso to create a mold from which a life mask or bust of the person could be cast. This would result in a three dimensional, faithful transfer capturing in minute detail the true likeness of the subject. Thanks to the work of sculptors John Henri Isaac Browere and Jean-Antoine Houdon we have a variety of life masks of famous early Americans giving us the chance to see their true likeness.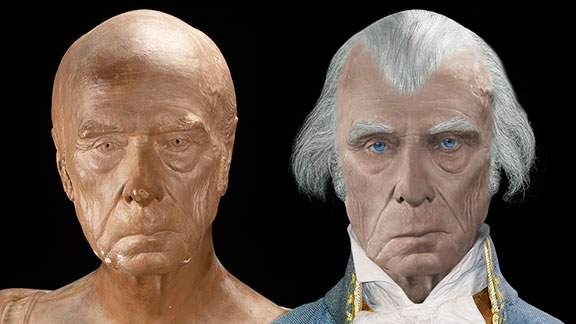 Due to the lightness of Browere's plaster mixture the faces were not distorted and were considered very accurate likenesses. Jefferson endorsed his life mask bust, as did James and Dolley Madison when they saw it several days later. James Madison said of his own life mask, "Per request of Mr. Browere, busts of myself and of my wife, regarded as exact likenesses, have been executed by him in plaister, being casts made from the moulds formed on our persons, of which this certificate is given under my hand at Montpelier, 19, October, 1825."
A plaster bust does not excite the eye like an image in living color! So, starting with high-resolution photographs combined with meticulous research into the subjects personal physical traits, I set out to produce such an image with accuracy and faithfullness to the original being the driving factor. I reconstructed the life masks into modern color photographs of what these icons of history most likely looked like. That done, I created period scenes featuring the real faces providing a portail to the past.
---
Latest Works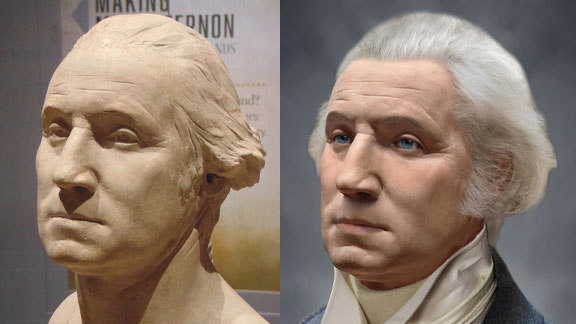 See a new reconstruction of Jean-Antoine Houdon's 1785 life mask of George Washington!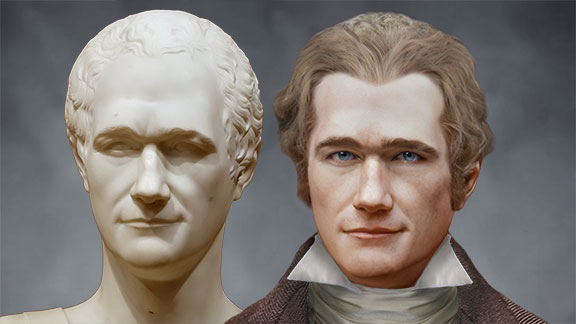 A reconstruction of the 1794 Giuseppe Ceracchi bust of Alexander Hamilton. The bust is believed to be the most accurate depiction of Hamilton.