See James and Dolley Together In A Photograph For The First Time
There exists in history events and situations that we know occurred but there is no visual record left behind to substantiate the fact. Take the deeply loving and historical relationship of our fourth President James Madison and his equally famous wife, a true first lady, Dolley Madison. Much has been written about the historic couple and their love for each other, but sadly, there are no known paintings commemorating the two together. That, plus the fact James passed before the advent of photography (the daguerreotype), there is no hope of there being a real photograph of the great American couple.
That is until now! Now, through the magic of Adobe Photoshop, we can visualize the two together as they should be. Fortunately, Dolley did live into the age of photography, so we have accurate images of her in her later years. Thus, starting with a high-resolution scan of a daguerreotype featuring Dolley and Anna Payne taken in 1848, Anna was removed. The image was restored to its original sharpness cleaning up of evidence of its years of wear and tear. Then, expanding on my recently done forensic/academic study of the James Madison life mask created by John Henri Isaac Browere (1790—1834) in 1825, combined with meticulous research into the fashion of the day, and photographs of modern action figure dolls for a body, James was added to the illusion. The combination of these elements creates a pleasing portrait of the two.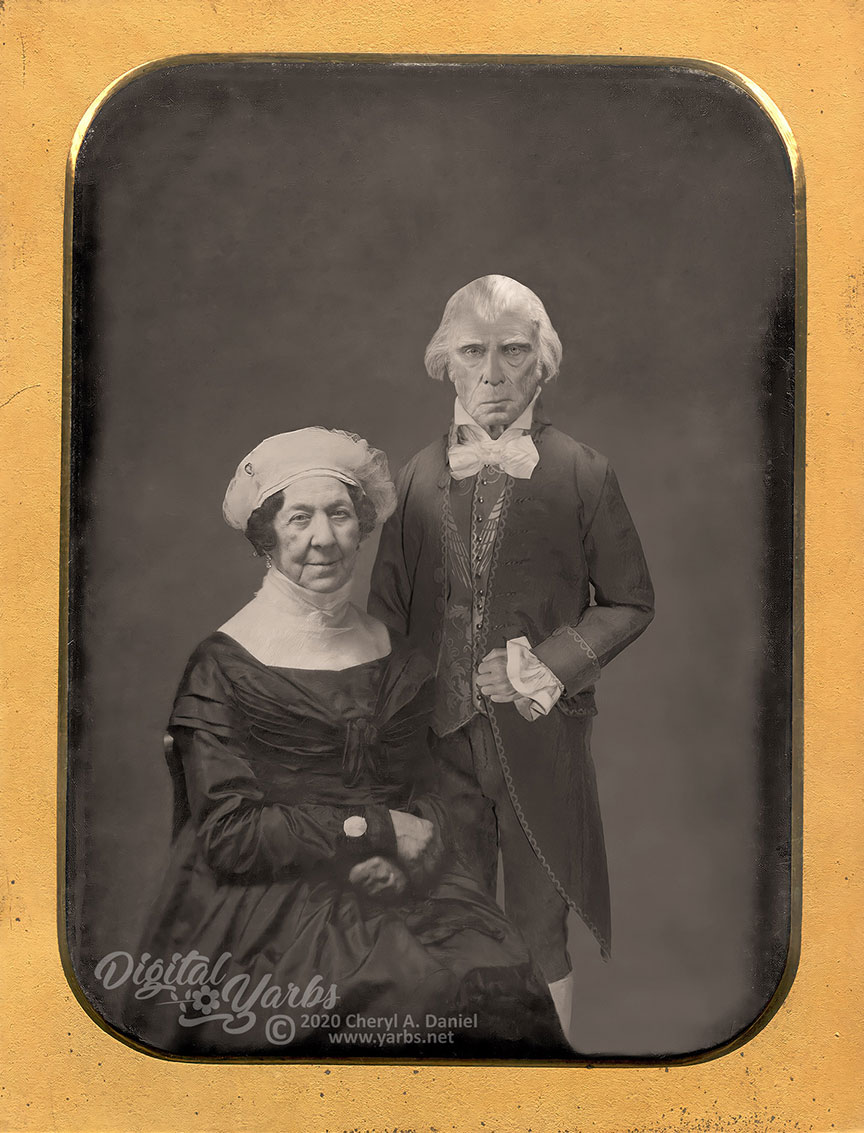 Photoshop reconstruction of the 1825 life mask of 4th U.S. President James Madison by John Henri Browere and Daguerreotype of Dolley Payne Todd Madison
The major drawback in creating an image of this type are the anachronisms that can be created. For example, in our portrait, the sources for the reconstructed images were created years apart. James was 75 years old when his life mask was made in 1825, and Dolley was 80 years old when the 1848 photograph was taken. The result is that Dolley appears five years senior to James in our portrait when, in reality, James was seventeen years senior to Dolley. See the anachronism – well, I guess James and Dolley were definitely doing the time warp!
About the Madisons
"James Madison was a sickly and slightly built man who stood just 5 feet 4 inches tall and rarely tipped the scales at much more than 100 pounds. His voice was so weak that people often had difficulty hearing his speeches, and he was plagued by recurring bouts of "bilious fever" and what he described as "a constitutional liability to sudden attacks, somewhat resembling epilepsy." While contemporaries praised Madison's fierce intelligence, many also made note of his small size and timid demeanor. The wife of a Virginia politician once labeled him 'the most unsociable creature in existence.'"1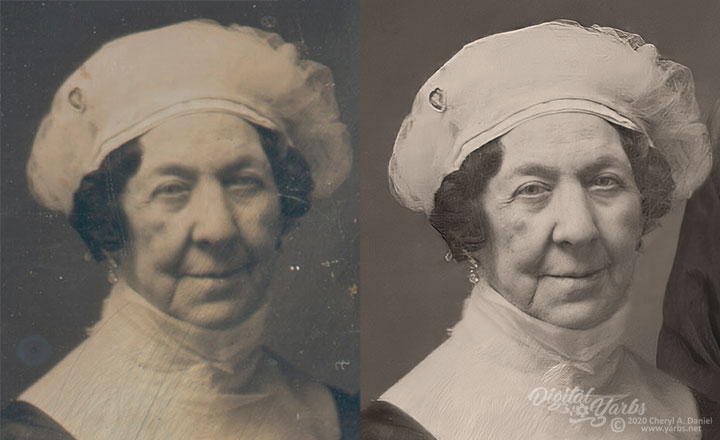 Left: Original daguerreotype of Dolley Madison. Right: Retouched and enhanced Dolley Madison
Left: Photoshop reconstruction of the 1825 life mask of 4th U.S. President James Madison by John Henri Browere Right: Enhanced reconstruction of the 1825 life mask of 4th U.S. President James Madison
However, James was known to have a wicked sense of humor and could tell a dirty joke or two among friends and acquaintances. "A British diplomat found him a 'jovial and good-humored companion.' Another source called James 'an incessant humorist' who "set his table guests daily into roars of laughter over his stories and whimsical ways of telling them."2
"In contrast to Madison's quiet and retiring personality, his wife Dolley was a social butterfly known for her exuberance, warmth and wit. When Madison began his first term as president in 1809, she embraced the role of first lady and helped define its duties by redecorating the White House and hosting the first ever Inaugural Ball. By serving as the "directress" of an orphanage for young girls, she also started the tradition of first ladies taking on a public outreach project. Dolley proved particularly effective in her job as the White House hostess. Her weekly receptions became a hot ticket among foreign dignitaries, intellectuals and politicians, leading writer Washington Irving to remark on the 'blazing splendor of Mrs. Madison's drawing room.'"3
About Life Masks:
Before photography, life masks were the best way to give us an exact likeness of their subject. Plaster would be applied to the head and sometimes upper torso to create a mold from which a life mask (cast bust) of the person would be created. In addition to being three-dimensional, the faithful transfer process of the life mask creation eliminated the "artistic license" and "sympathetic treatment" employed by many contemporary portrait artists. Thus, using life masks, I am able to complete a forensic/academic study of how the subjects most likely appeared using Adobe Photoshop to add flesh, hair, and other details.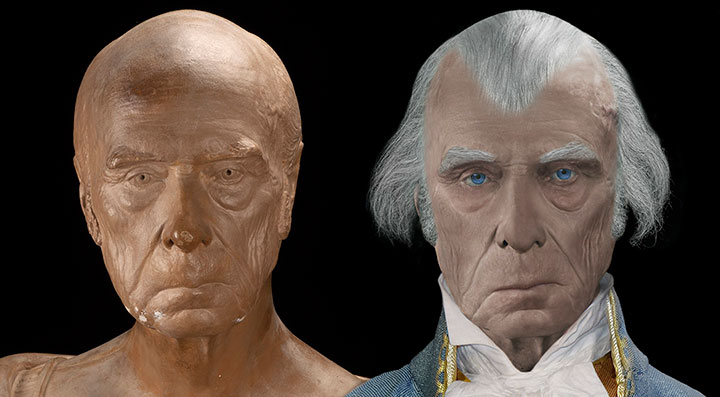 (Left) James Madison, 1825, John Henri Isaac Browere (1790-1834), Plaster, H: 28.5 x W: 21 x D: 11.5 in. Fenimore Art Museum, Cooperstown, New York, Gift of Stephen C. Clark, N0244.1940. Photograph by Richard Walker. (Right) Life Mask Photoshop Reconstruction of James Madison
Browere's made life masks of many famous early Americans, Marquis De Lafayette, Thomas Jefferson, John Adams, Dolley Madison and James Madison to name a few.
Below is the original daguerreotype used for the composition.
---
James Madison Life Mask Facial Animations
---
James Madison life mask reconstruction video
See the time-lapse reconstruction of Madison's life mask, facial animations, a new enhanced view of his face, as well as how he might have appeared in daguerreotypes.
"The Lost Daguerreotype" process video
---
Archival Quality Giclée James Madison Prints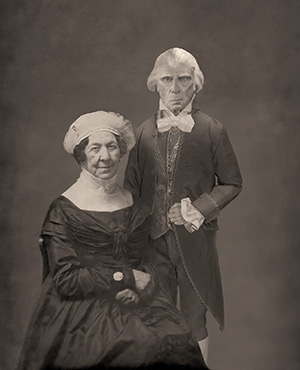 The Lost Daguerreotype of James and Dolley Madison
$11.50 - $45.00
Signed archival high quality giclée prints with certificate of authenticity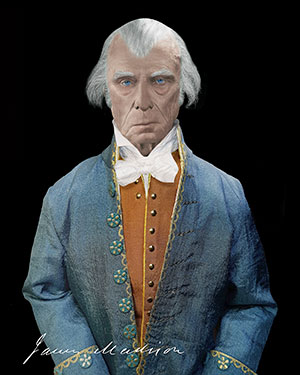 The Real Face of James Madison
$11.50 - $45.00
Signed archival high quality giclée prints with certificate of authenticity
Sources & References:
1,3Evan Andrews. "10 Things You May Not Know About James Madison". http://www.metmuseum.org/toah/hd/adag/hd_adag.htm (March 2016)
2David O. Stewart. "The Surprising Raucous Home Life of the Madisons" https://www.smithsonianmag.com/history/surprising-raucous-home-life-madisons-180954205/
Original Life Mask Image Source: James Madison, 1825, John Henri Isaac Browere (1790-1834), Plaster, H: 28.5 x W: 21 x D: 11.5 in. Fenimore Art Museum, Cooperstown, New York, Gift of Stephen C. Clark, N0244.1940. Photograph by Richard Walker. (Used By Permission)