What did Thomas Jefferson Look Like?
In an era with no photography and so many variations among paintings, we are left scratching our heads. Now we can know. Using Adobe Photoshop, I've attempted to faithfully reproduce 3rd U.S. President Thomas Jefferson as he might have looked in 1825 using his life mask. We can now see what Jefferson looked like, although no photographs of him exist.
The life mask of Thomas Jefferson was taken from a plaster mold of his head created by John Henri Isaac Browere.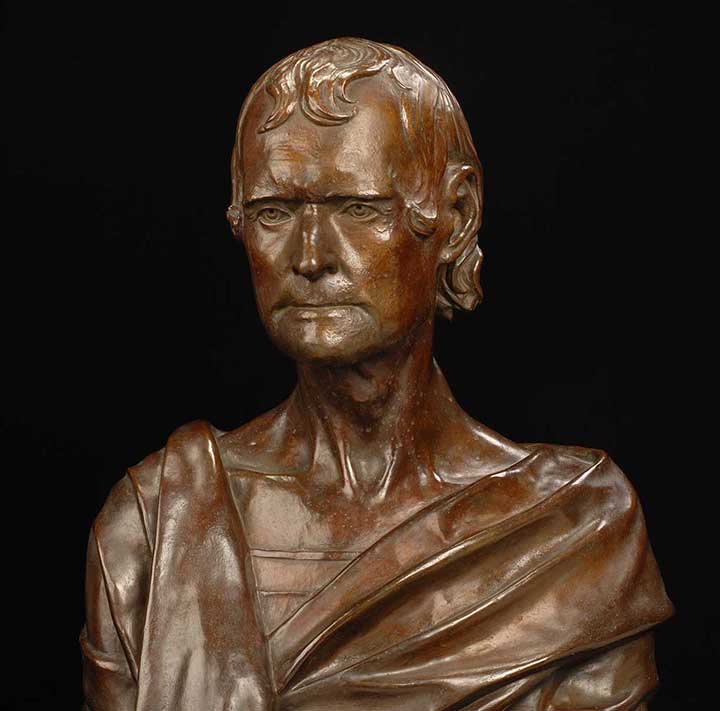 Thomas Jefferson life mask by J.I. Browere. Source: Thomas Jefferson, 1825, John Henri Isaac Browere (1790-1834), Plaster, H: 26.27 x W: 18.5 x D: 10.5 in. Fenimore Art Museum, Cooperstown, New York, Gift of Stephen C. Clark, N0209.1961. Photograph by Richard Walker. (Used By Permission)
"On October 15, 1825, there appeared at Monticello, the home of the venerable Thomas Jefferson, one John Henri Isaac Browere, sculptor and celebrity hunter. He had come, he announced, to make a likeness of Mr. Jefferson. Browere had already gained some degree of fame for his busts of well-known people. Not carved from wood or chiselled from marble, these busts were cast of plaster, in the European manner, from molds taken of the features of living subjects. He made the molds with a grout whose formula he himself had concocted and which he jealously guarded."1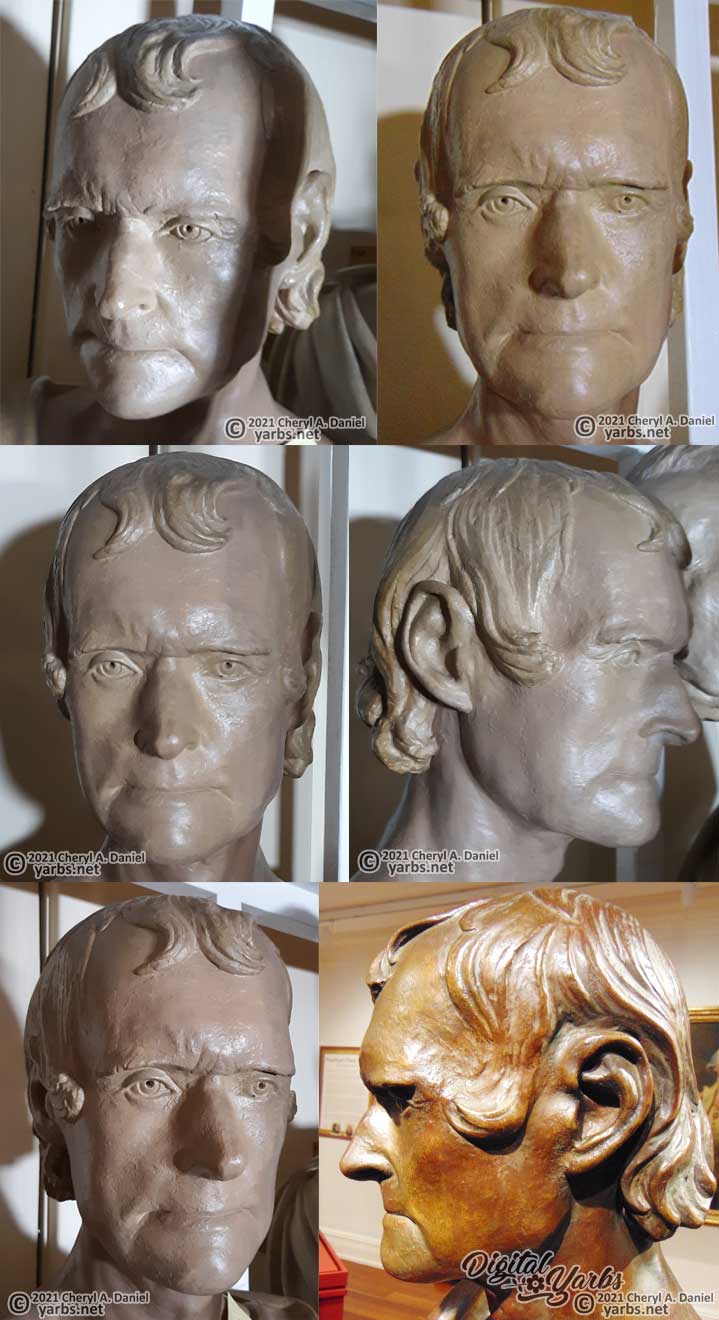 J. I. Browere's 1825 life masks of Thomas Jefferson – Source: Cheryl A. Daniel, with special thanks to Fenimore Art Museum, Cooperstown N.Y.
"Critics were divided on the merits of Browere and his technique, some deriding him as a mere mechanic and calling his New York studio a "plaster factory." But none could deny that his work achieved a stark realism uncommon in that day. His plaster busts showed the age-lined brow, the pock-marked face; his subjects appeared as they were, not as artists generally portrayed them. His life masks were, and remain, the most authentic likenesses of some historic figures who lived in a day before photography provided more easily obtained but similarly uncompromising portraits."2
Life Mask Reconstruction
Below is the Photoshop reconstruction of Jefferson's life mask.
Remarkably, Jefferson showed little wrinkles for his advanced age in 1825. The life mask has a lot of pitting on the surface of which I removed in this reconstruction.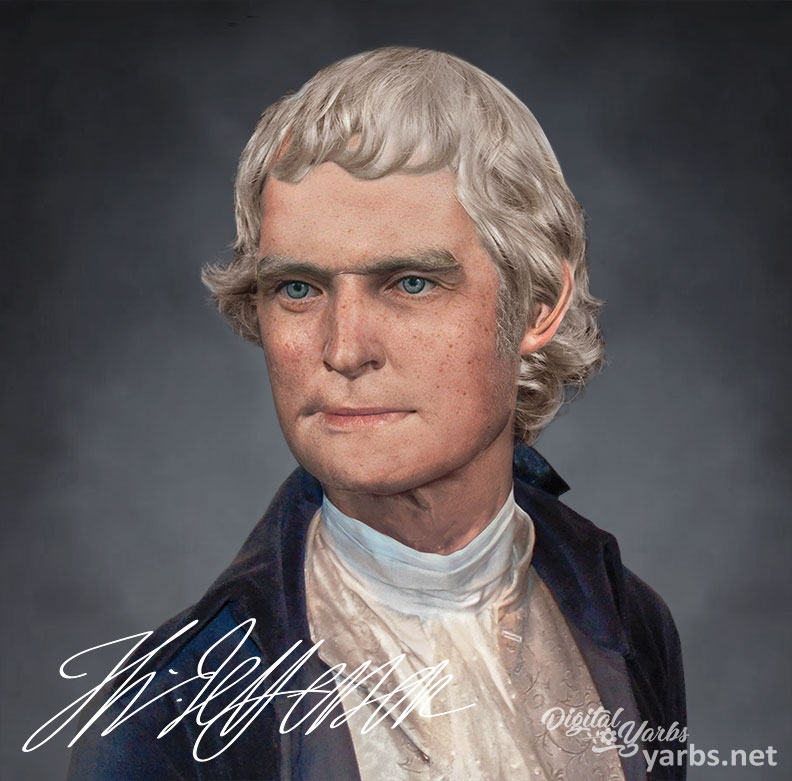 Life Mask Photoshop Reconstruction of Thomas Jefferson.
"There seems to be no consensus on Thomas Jefferson's eye color. His eyes were variously described by family, friends, employees, and others as blue, gray, "light," hazel, and combinations thereof."3
I studied a few of Jefferson's paintings when attempting to place his eyebrows. Some paintings show his eyebrows to be dark even into old age. I tried to shape his brows according to the contours of the mask, taking into account that the plaster may have pressed his eyebrows a bit.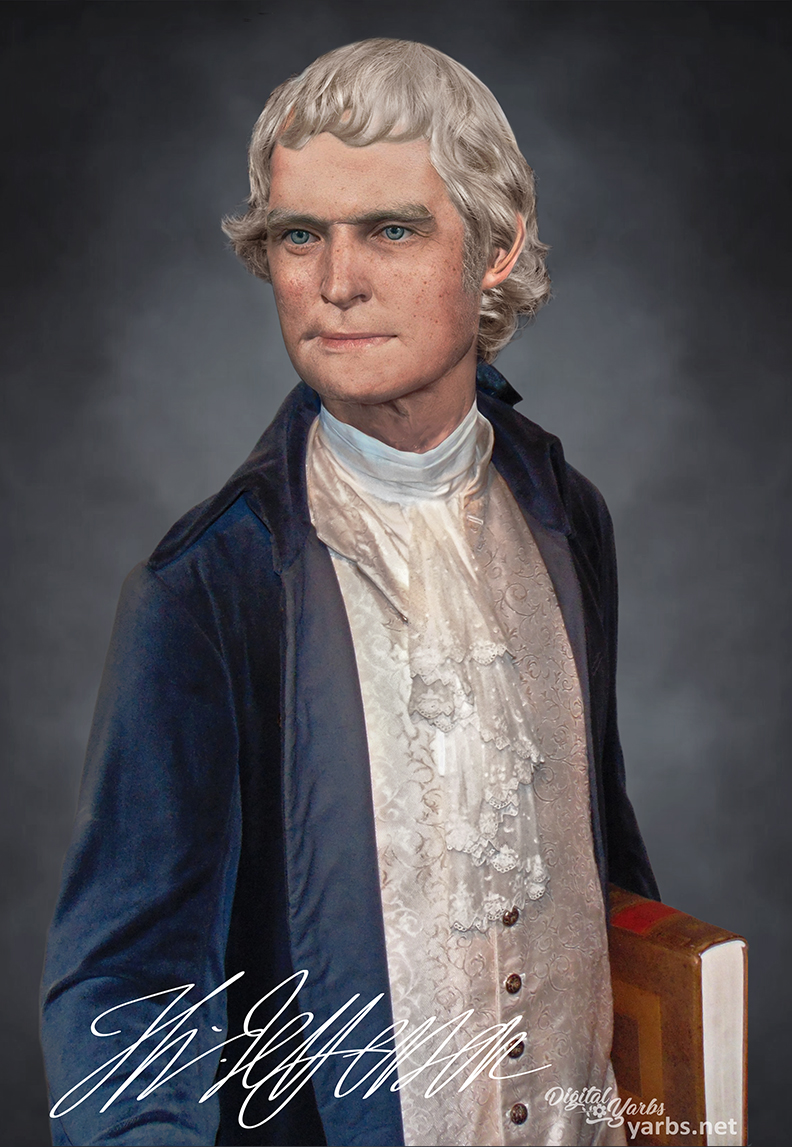 Life Mask Photoshop Reconstruction of Thomas Jefferson.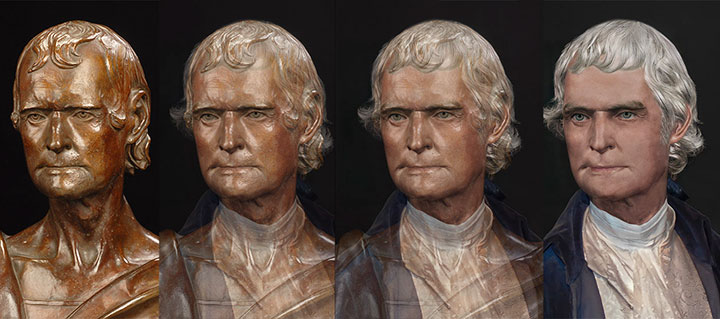 Overlay transition of the image of Thomas Jefferson's life mask reconstruction.
The casting of Jefferson's life mask did not go well; he almost suffocated as a result.
″Jefferson wrote to James Madison of the ordeal on October 18, 1825: I was taken in by Browere. he said his operation would be of about 20. minutes and less unpleasant than Houdon's method. I submitted therefore without enquiry but it was a bold experiment on his part on the health of an Octogenary, worn down by sickness as well as age. successive coats of thin grout plaistered on the naked head, and kept there an hour, would have been a severe trial of a young and hale person. he suffered the plaister also to get so dry that separation became difficult & even dangerous. he was obliged to use freely the mallet & chisel to break it into pieces and get off a piece at a time. these thumps of the mallet would have been sensible almost to a loggerhead. the family became alarmed, and he confused, till I was quite exhausted, and there became real danger that the ears would separate from the head sooner than from the plaister. I now bid adieu for ever to busts & even portraits."4
Portrait Comparison
According to Thomas Jefferson's great-granddaughter Sarah N. Randolph, the left portrait below made from a painting by Gilbert Stuart is considered the best likeness of him. Hopefully, my Photoshop restoration on the right captures a "new" true likeness of Jefferson.5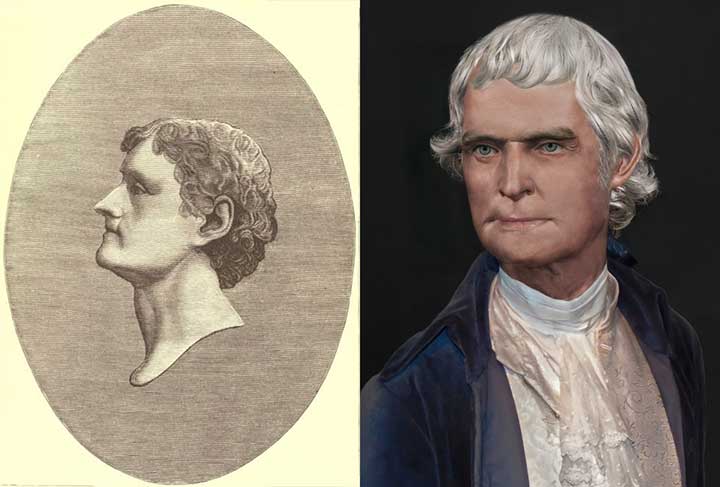 Source: Left portrait – Project Gutenberg (Public Domain)
Another View of Jefferson's Life Mask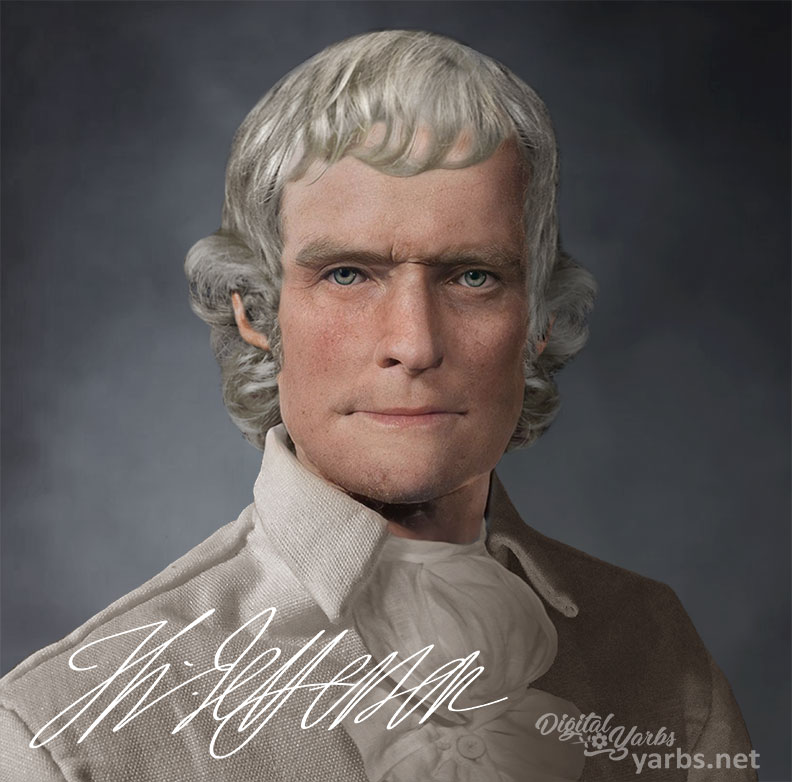 Photoshop reconstruction of J. I. Browere's 1825 Life Mask of Thomas Jefferson.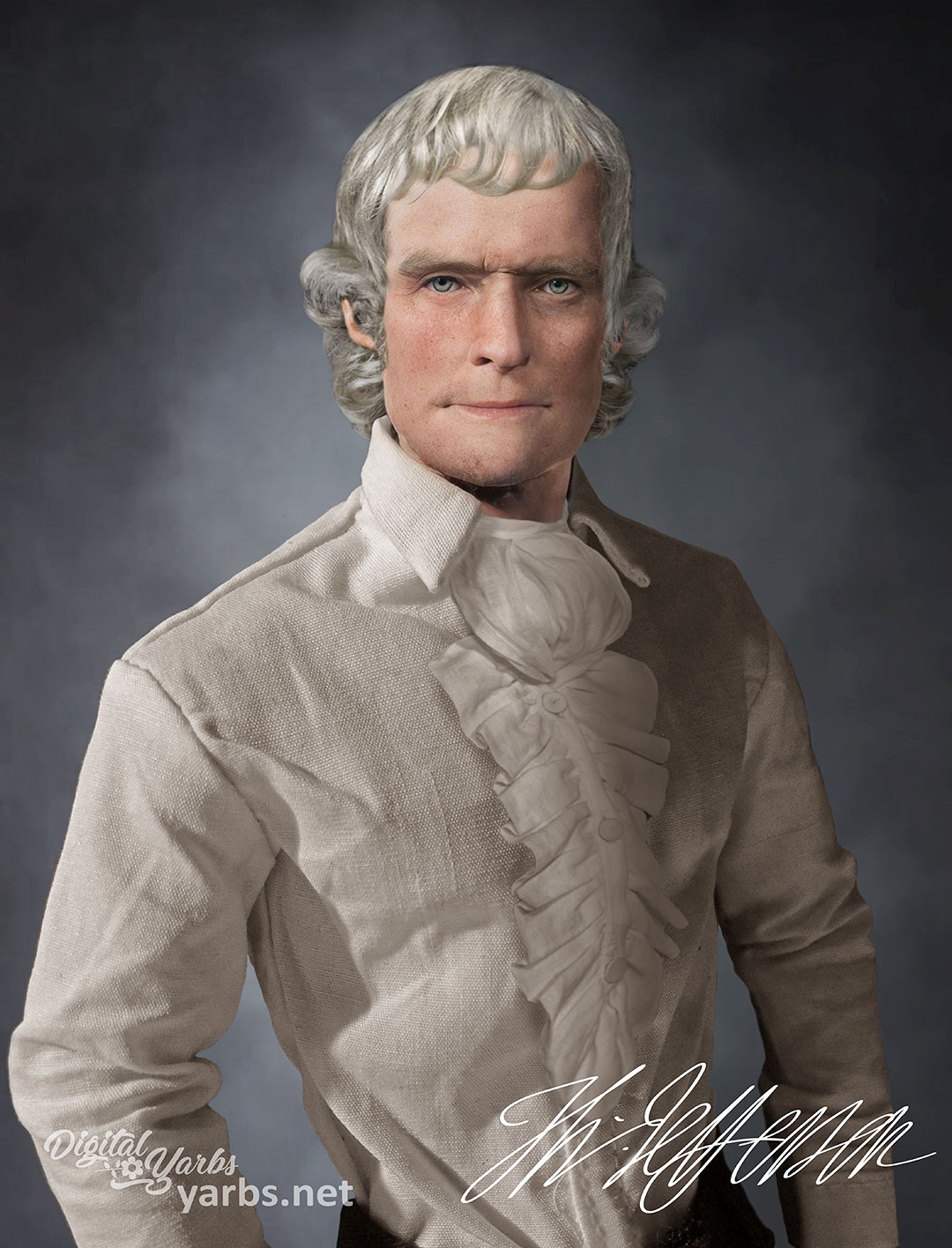 Source: Photoshop reconstruction of J. I. Browere's 1825 Life Mask of Thomas Jefferson.

---
Sources & References:
1,2 Donald B. Webster, Jr. "The Day Jefferson Got Plastered" American Heritage (1963) https://www.americanheritage.com/day-jefferson-got-plastered
3 Thomas Jefferson Monticello. "Thomas Jefferson Encyclopedia – Eye Color" https://www.monticello.org/site/research-and-collections/eye-color
4 From Thomas Jefferson to James Madison, 18 October 1825," Founders Online, National Archives, accessed September 29, 2019, https://founders.archives.gov/documents/Jefferson/98-01-02-5602. 5Sarah N. Randolph. "The Domestic Life of Thomas Jefferson" Harper Brothers Publishers. New York. 1871. https://www.gutenberg.org/files/43331/43331-h/43331-h.htm